According to a national survey, more than 3 in 4 Americans wish that the holidays were less materialistic. Nearly 9 in 10 believe that the holidays should be more about family and caring for others, not giving and receiving gifts.
What used to be a time for peace, reflection, and celebration has become an onslaught of shopping, spending, and frenzied preparations. That's why, every year, New Dream encourages folks to Simplify the Holidays.
To help you kickstart a holiday season focused on more of what matters, we've compiled our six favorite simplifying tips for you:
1. Set Your Intentions
Take a few minutes to think through what you want out of the holidays this year. Does your usual celebration focus on the aspects you feel are most important? Are there traditions you've let lapse that you would love to bring back? What parts of the celebration would be easiest to change, so you can spend time on more of what matters?
With your family, write down the top five holiday events, activities, or traditions that are most meaningful to you. You can then use this list as the filter through which you make decisions about which traditions to keep and which to lose. (For example, if nobody in your family cares about the holiday lights in the yard, don't bother putting them up.)
2. Leave a Margin
Part of what makes the holidays so challenging is that there's so much fun to be had! Treasured holiday movies, get-togethers with loved ones, meaningful service projects, adorable holiday crafts, the list goes on. But you have to leave breathing room if you want a sane holiday season that doesn't make you feel like you're spinning out of control.
As the season starts, don't cram your calendar. Leave plenty of white space so that you can accept that last-minute invitation for hot chocolate with your neighbors. This is where your list of priorities can become a life-saver. If an event isn't a family favorite, think carefully about whether it should make it onto your calendar. Try to envision how you and your family will feel on the night of the event—would you be excited or resentful about going?
3. Skip the Stores
For many people, overspending is the biggest source of holiday stress. Even if money isn't a concern, holiday shopping can still be stressful. This year, commit to skipping the stores and opt for one of these alternatives instead:
Give the Gift of Time. Instead of another scarf, how about giving your best friend a "coupon" for an afternoon of your organizing services? For your kids, replace the cheap plastic toy with a coupon that lets them stay up an hour past bedtime. What about a tech tutoring session for your dad? We've created a free, downloadable coupon booklet with over 100 ideas to make your holiday gifting more meaningful this year.
Encourage Your Family to Create Holiday Wishlists. Not sure what skill you can offer your hard-to-please brother-in-law? How about asking him? Through SoKind registry, each family can create an easy online registry to ask for gifts of time, handmade goods, charitable donations, secondhand goods, or useful items that are actually needed. Check out this sample holiday wishlist for ideas and inspiration.
4. Go Paperless
This year, skip the holiday cards. No more searching for the perfect photo. No more licking envelopes and writing out hundreds of addresses. Think of all the time and money you'll save! With social media connecting us with loved ones far away, the holiday card doesn't seem as necessary to keep relationships alive.
If you want, you can still send an email to folks on your list, explaining that you're foregoing cards this year but that you hope their holiday is joyful and bright. You can post a similar message on social media. There are also plenty of beautiful paperless options these days. Or, you can host a holiday card swap party with friends and make upcycled cards while having a merry time.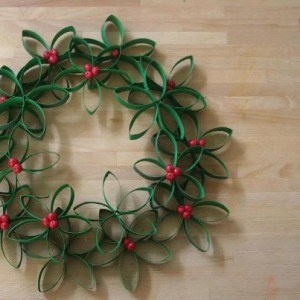 5. Use What You Have
When it comes to decor, adopt the "less is more" attitude. That way, your favorites really shine and you don't spend countless hours shopping for, putting up, and taking down decorations. Commit to not buying any new decorations this year—instead, use what you have or bring the outdoors in. Check out our Simplify the Holidays Pinterest board for simple ways you can use what you have to deck out your home for the holidays.
6. Cancel "The Show"
Author Brené Brown recounts a terrible Christmas memory that she uses to help her focus on more of what matters during the holidays. She was sitting in her kitchen, addressing 225 Christmas cards, while her son was crying in his room because she wouldn't read him "the reindeer book" until she finished the cards. Her daughter was sulking in the living room because it was too late to start a Polar Express family movie night. Eventually, Brené exploded and yelled "I HAVE to finish these cards! ... Everyone wants to send them, but I'm the one who has to make it happen!" When the house got very quiet, she remembers telling herself, "Oh, well. The show must go on."
After that incident, Brené began to realize that, when our lives become pageants, we become actors. And when we become actors, we sacrifice authenticity. Without authenticity, we can't cultivate love and connection. Without love and connection, we have nothing.
This year, cancel the show. That doesn't mean cancel the holiday. It just means thinking about the various roles you play. Which ones are authentic and bring you joy? If you don't enjoy hosting an extravagant meal and only do it because your extended family expects you to play the part, why not just cancel the show and invite them for dessert instead? Or host a hot chocolate and movie party. Maybe just invite your loved ones to meet you at an ice skating rink. Or organize a group service project. Or, don't host a gathering at all. Repeat to yourself: The show does NOT have to go on.