Top 10 Reasons Why You Should Host an Alternative Gift Fair
by Julie Welles | May 2, 2016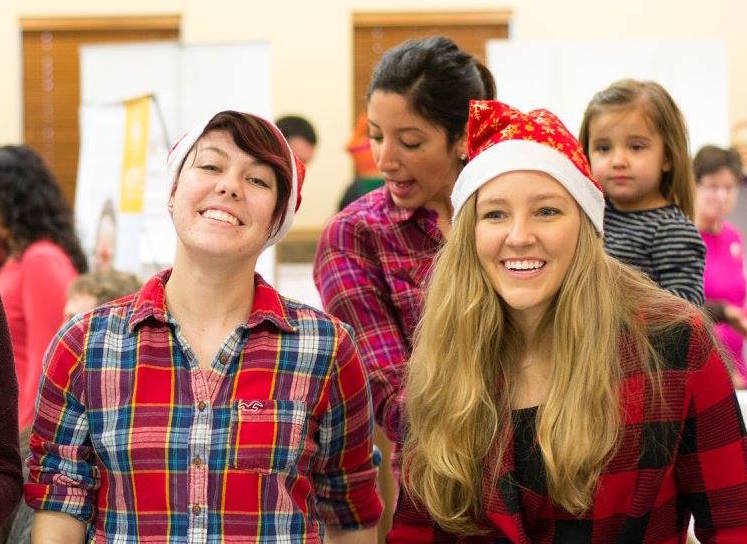 Many of our readers have told us that would like to host Alternative Gift Fairs in their communities but that they often face a time crunch around the end-of-year holidays. It can be helpful to start as early as May to get things really organized and be successful.
New Dream asked Julie Welles, a coordinator of Gifts that Give Hope in Lancaster, Pennsylvania, to share her experiences with these popular gift-giving events. She offers 10 compelling reasons for hosting an Alternative Gift Fair in your community this year.
---
Giving can make us happy. The act of giving is often seen as a way we show appreciation, gratitude, and compassion. And giving can strengthen bonds with others. Many of us learn early in our lives that it feels good to give. Who doesn't enjoy seeing a person's eyes light up and their smile widen with joy as we give them a gift? Giving gifts is often a part of who we are.

For nine years, I've been involved with Gifts that Give Hope, an Alternative Gift Fair in Lancaster, Pennsylvania. We are a group of community volunteers that are fed up with the consumerism of the holidays. There is a movement toward simplifying our lives gaining steam in our culture, and we wanted to be a part of it! We said enough is enough, and began an alternative gift fair in our community. We wanted to make a stand, educate and encourage our community to stop the madness, and embrace meaningful gift giving.
Why should you consider hosting an Alternative Gift Fair? Here are 10 reasons:
1. Encourages compassion vs. consumerism
The true meaning of the holidays has become lost in commercialization. Advertisers spend an obscene amount of money trying to convince us that we must "BUY MORE GIFTS!" Gift giving itself isn't evil. Giving gifts to people we love is fundamental. Alternative giving simply wants to place more emphasis on spending wisely and more mindfully on "stuff" and focusing more on encouraging gifts of compassion. Alternative giving demonstrates how we don't need to fit into that consumer culture mold. We don't have to live like the ads tell us we should. Our identity is not in the things we buy, but in the people we help. We can choose to be different. We can change our lives and the lives of others.
2. Illustrates how people can "Pay It Forward"
Alternative gift fairs promote giving compassionately, and show how the ripples of caring extend far beyond an ordinary gift. For example: Amanda donates a $25 gift that provides shelter for a homeless woman at a local nonprofit. She gives it to her friend Jane for Christmas, who has a heart for the homeless. Jane is so touched by Amanda's gift, that she begins to cry and hugs her friend Amanda. A few weeks later, Jane continues to be inspired and volunteers at the homeless shelter. Jane befriends a homeless woman. Her heart is full, knowing that the gift that she and her friend shared together helped enable this woman to stay at the shelter. Perhaps the homeless woman gains strength to make transformational changes in her life. Think of the lasting impact that both Jane, Amanda, and the homeless woman may have experienced through this simple transaction. Do you think a scarf, basket of lotions, or gift card could have accomplished the same?
3. Celebrates community—builds a sense of community and common purpose
I look forward to the amazing sense of community each year. People of all ages, cultures, and even different faiths come together. From our 30 nonprofits engaging with the community, to the fair trade and social enterprises selling their wares, or the fabulous ethnic-inspired food vendors—the place is abuzz with warmth, spirit, and unity. There is nothing like a gift fair to bring about a sense of fellowship and common purpose.
"Alternative giving changes lives, instills peace, shares joy, teaches compassion, shows gratitude … invites people of all ages to participate in helping their neighbors, close and far. An emotional journey of the senses … it moves people. They open their hearts and pockets. They help others feel good. They feel good."
—Gina D'ambrosio, a Gifts That Give Hope, Lancaster shopper and supporter
4. Sparks education and awareness
Suffering is happening right in our own backyards, and all over the world. An alternative gift fair brings light to the many causes and people who are in the trenches, working hard to end the injustices and suffering of the world. With an alternative gift fair, the nonprofits, fair trade, and social enterprise goods provide excellent resources for the public. They teach us what actions we can take to make a difference, and how we can help spread the word among our sphere of influence.
5. Awakens curiosity and compassion in children
Each year, it warms my heart to see families with children faithfully attending our fair. The kids seem just as fascinated as the adults, learning how they can give gifts that help others. We've heard countless stories of children giving up their allowances, tooth fairy money, and even some lunch money, so that they could give compassionately. I've heard parents encouraging their kids to help pick which gifts to give the people on their family Christmas list. It's a fantastic family learning experience, and it's fun, too!
6. One-on-one connection
Gathering so many nonprofits and organizations together makes for a convenient way to connect directly with people in the community. Our nonprofits and shoppers love how they get to speak one-on-one. It's all about building relationships! In fact, some of our shoppers end up volunteering and becoming more active with the causes they support!
7. Promotes sustainable living and caring for our earth
We always ensure that several of our nonprofits involve caring for our Earth, either directly or indirectly. From seeds for crops, to planting trees, or coffee that is grown in sustainable and fair trade environments, a fair can bring awareness about the things we can do to help save our precious Earth.
8. Eco-friendly
Think outside the box—the gift box, that is! Alternative gifts are eco-friendly. No box and no wrap required! For our fair, we offer attractive gift cards and descriptive inserts. You can choose how you want to present your gifts for your fair—some use gift certificates, some use postcards with custom calligraphy. Hey, you could even do electronic versions if you want! Even MORE eco-friendly!
9. Fosters gratitude
We have been given a great gift of love—our life—and it's our mission and joy to celebrate that gift. What better way to celebrate gratitude than to give with your whole heart, with mindfulness and compassion through the formation of a gift fair. Find the people in your community that desire to choose a better way. Challenge them to be grateful for what they have been given, and join together to start a fair in your community!
"Gratitude ... goes beyond the "mine" and "thine" and claims the truth that all of life is a pure gift. In the past I always thought of gratitude as a spontaneous response to the awareness of gifts received, but now I realize that gratitude can also be lived as a discipline. The discipline of gratitude is the explicit effort to acknowledge that all I am and have is given to me as a gift of love, a gift to be celebrated with joy."
—Henri J. M. Nouwen
10. Brings far-reaching joy and inspires change
Joy and peace is what we all seek. You. Me. Your loved ones. The suffering. The world. Imagine what our culture and our world could become if we all decided to make mindful choices about how we live, love, and give. Alternative giving is not the answer to all the world's chaos. But imagine who and what could be impacted in your family…your community…your world…?
It's about LOVE. It's about compassion. And changing lives, one gift at a time.
If you're interested in hosting an alternative gift fair in your community this year, check out New Dream's Alternative Gift Fairs 101 resources. You'll get a step-by-step guide with all the information (including a timeline) to host a meaningful event that celebrates your values and supports important charities this holiday season.