In the Real Celebrations series, SoKind asks registry users to share a bit about their celebrations. Read on for a collection of inspirational ideas as well as lessons learned!
Want to share your Real Celebration? Contact us at hello@sokindregistry.org.
The Parents: Freddie, a teacher of environmental studies, eco-justice, and theology at Seattle University, and John, the convener of Valley and Mountain, a local movement focused on developing spiritual maturity, deep community, social justice, and creative expression.
The Event: Baby Shower
Date and Location: A Friend's Living Room in Seattle, October 2013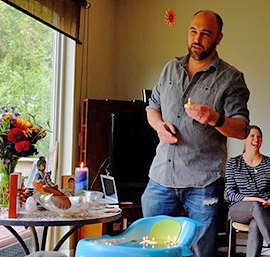 In Their Words: It seems like one of the (many) rituals our culture has lost is that of transitioning folks into parenthood. Most baby showers focus on materialism or welcoming this new person into the world, but that felt a bit odd to us because this new person hadn't arrived yet, and we figured there'd be plenty of opportunity to celebrate them post-birth. Instead, we thought it would be meaningful to focus on the "birth" of John as a father and me as a mother, blessing this transition-in-progress and loving/supporting us through it.
Many ceremonies or rituals symbolically destroy one world to create a new one, and we thought we'd like to be held (symbolically) by the ones we love as we say goodbye to the world we're leaving behind and anticipate a new one. So with that in mind, we created a ritual where each person present stood up, lit a floating candle that they placed in a baby tub filled with water and river stones, and shared a story of a parent or parental figure who was meaningful to them, and how they saw those same characteristics in us. And then we feasted!
Lessons Learned: We should have been really clear about whether this event was a "no presents" thing or a "check out our list of intangible presents" thing—our hosts stressed the former, so our alternative registry didn't end up getting as much attention as we would have liked.
SoKind Gifts Received: Mealtrain Organizer, Used Children's Books, Used Glider Chair, Home Birth Kit, Homemade Mobile