Jen is a green entrepreneur and media personality. She co-founded Ideal Bite in 2005 and grew the daily eco email to over half-a-million subscribers before selling the venture in 2008. Jen has appeared on shows such as Good Morning America, The Today Show, Martha Stewart and The View, and has authored articles for publications ranging from Fast Company to Real Simple. A graduate of William & Mary, Jen also received a "green MBA" from George Washington University. Today she spends her time with her baby boy Sky, her horse Lou, and creating content around her " light green lifestyle" to inspire others to go a little green at JenBTV.com. Jen is pro animal, a country girl at heart, and says "y'all" after a few beers.
Advice from Jen to SoKind folks:
Although small, babies sure can generate a LOT of waste with all of the stuff that companies want you to believe that you need. Fear not! You truly don't need that much. But there is some stuff you do need! The good news is that, today, there are plenty of wonderful green options out there. Take a look!
---
Gently Used Toys and Clothes
My mom threw us a "green shower" and asked all 50 of the invitees to bring a recycled gift. Let me tell you – I had so much fun hearing people's stories them discovering how awesome the local children's consignment store is, or how much great stuff is found on Craig's List and even in their own storage closets. The best thing about the event (besides the time with friends and family) is that quite a few people had that "aha moment:" that you don't need to buy new for most things. And avoiding buying new is one of the very best things we can do for ma' earth – and your wallet. With toys and baby clothes, babies go through them both so quickly, and there is such an abundance of gently used items out there, so why not use what's already there, for a fraction of the price?
---
Hemp Body Wash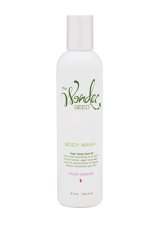 One of the best tips I learned was to skip all of those silly sink and bathtub plastic contraptions for bathing your baby. Give yourself the gift of bathing with your baby, and just place them on a hand towel that is draped over legs to make sure they feel secure. Then – because this will undoubtedly be your only chance to bathe – give yourself some special body wash that is luxurious, all natural, and smells amazing – and is of course safe & gentle for the baby. (Big points - not tested on bunny rabbits.)
---
Grovia Cloth Diaper Shells /Biodegradable

Did you know that your baby will need 6000-8000 diaper changes before they are potty trained? That's a LOT of poopy plastic in the landfill! Plus that equates to about $3,000 spent on disposable diapers. Instead, consider cloth diapering. There are really cute and convenient options out there now – and these even have biodegradable inserts that you can throw away with a lot less guilt. After a lot of research we chose GroVia brand because of their materials, design, and cuteness. Also, they make the BEST diaper rash ointment– the Magic Stick. Wondering if you can do it? Check out this short video we made for people exactly like you:
---
Hook On High Chair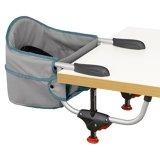 These things are the best! Not only do they take up far less space than a standard high chair, but also they travel well so your baby can always have a seat at the table. There are always quite a few on Craig's List and eBay – and some have the food tray addition that you may want if your kitchen table isn't easy to clean.
---
Organic Swaddle Blankets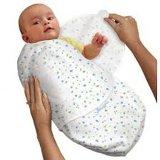 These things are indispensible for a content baby for about the first 6 months or so. Once you learn how to make a "baby burrito" with them, your baby feels secure – like he's tucked back into the womb. Zzzzzzzzzzz. (I'd suggest getting at least 3, as they are also helpful to put atop the stroller in the sun, and to use as a cover when breastfeeding in public.)
Check out how easy they are to make on this site
www.aloadofcraft.com/2010/07/tutorial-how-to-make-swaddle-blanket.html
---
Refillable Food Pouches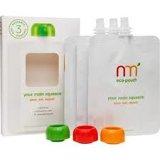 I admit: I fell for the fancy baby food maker, and it now sits in the storage closet while we just use a simple metal vegetable steamer (in a pot with boiling water at the bottom) and our blender. This way we make up BIG batches and are done for the week. Now, feeding your baby with your homemade concoctions on-the-go or when at childcare is not as easy – unless you have these pouches. They are reusable, and free of all the nasty chems like BPA. (Psst . . . did you know that the pouches from store-bought baby food are not recyclable?)