This month, as America celebrated its independence, we were also focused on the results of a national poll conducted by New Dream. Among other things, the poll found that "1 in 3 Americans would like to share more things like tools and household items." Nearly three-quarters of Americans believe sharing saves money, and even more recognize it as a way to build community.
Librarians across Maryland are already leading the way in supporting the efforts of the state's residents to promote the sharing economy, and a number of the local libraries have moved beyond their traditional efforts of lending books, music, and movies.
In November 2013, New Dream hosted a CommunityShare Workshop with the Maryland State Department of Education (MSDE) exploring the role of librarians in the emerging sharing economy. Roughly 50 librarians came to meet local sharing experts involved in timebanks, seed swaps, and tool libraries, and to access New Dream resources to support sharing ventures in their communities.
Six months after the workshop, over a dozen of those same librarians from 6 library systems gathered together once again to offer exciting details on new sharing programs implemented or in the works for 2014.
Every Thursday in July and August, Eldersburg Library in Carroll County will host From Our Table To Yours, encouraging neighbors to share bountiful garden vegetables with others in their community. In late July, librarians will organize a Community Kitchen Care and Share, inviting folks to share recipes, kitchen gadgets, and a potluck meal.
Librarians in Caroline County started with a simple seed exchange which has blossomed into a seed library. They have had a "fabulously positive response" from library patrons and they hope access to free seeds will promote "local food security, increase biodiversity, and show the community how easy it is to be self-sufficient."
Frederick County public libraries hope their patrons will see them as the gathering space for building community. Thurmont Library hosted a Volunteer Fair and a Summer Activities Fair to share information about local organizations and opportunities for helping others.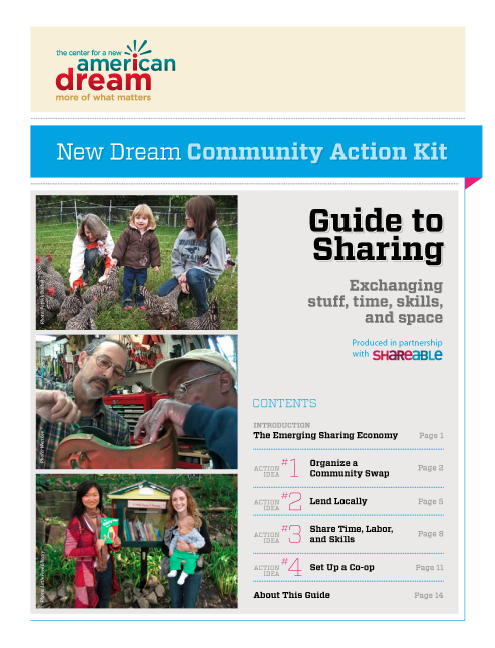 MSDE has set up a sharing economy web resource guide on the Maryland State Library Resource Center, and several additional library systems plan to host all kinds of swaps including kids' clothes, toys, and plants.
Libraries are naturally perfect spaces for sharing and with resources such as New Dream's Guide to Sharing, librarians can help their patrons support each other and build community resilience.

Thanks to Maryland librarians for leading the way!