With New Dream as a community partner, the 3rd Annual San Francisco Green Film Festival wrapped up recently after entertaining and educating thousands of Bay Area residents with over 50 new and noteworthy films.
The films covered such diverse topics as the environmental and human impacts of plastic and e-waste; the future of the organic food movement; the environmental health risks we encounter on a daily basis; alternative energy technologies; the use of performance art to make visible the hidden parts of our economy; heroic actions to protect critical open space; initiatives to restore the mighty Colorado River, and ongoing efforts to reimagine the American Dream.
Below are some of the films that Mark Valentine, a New Dream board member and a member of the festival's Advisory Board, recommends watching this year:
---
Tiny (Merete Mueller & Christopher Smith, USA, 2012, 62 min)
What is home? And how do we find it? Tiny follows one couple's attempt to build a Tiny House from scratch with no building experience, and profiles other families that have downsized their lives into houses smaller than the average parking space. Through the prism of people who have chosen to lead lives in homes (often elegantly designed) stripped down to their essentials, the film raises questions about sustainability, good design, and the changing nature of the American Dream.
---
More Than Honey (Markus Imhoof, Austria/Germany/Switzerland, 2012, 91 min; English subtitles)
Albert Einstein once said: "If bees ever die out, mankind will have only four years left to live." With the spread of the mysterious "colony collapse" phenomena devastating honey bee populations in North America and Europe, Einstein's words serve as a grim warning of a future where environmental contamination diminishes or destroys many of the natural systems and services upon which our civilization depends. Seeking answers to the source of this phenomenon, More Than Honey embarks on a captivating and disturbing journey around the world: from a beekeeper living in the Alps and the gigantic almond plantations in California, to a bee brain researcher in Berlin and a pollen trader in China. Dazzling macro camera footage, radar and satellite images, and thermal cameras provide an insight into a world that usually remains hidden to the human eye.
---
Terra Blight (Isaac Brown, USA , 2012, 55 min)
This movie provides the viewer with an intimate glimpse of lives woven together by the life cycle of computers. Viewers see the problem from a diversity of vantage points including an American family of avid gamers pursuing the latest and greatest, a 3,000-person video game party in Texas, an ebullient salesman of the now defunct CompUSA, residents of a small town with plumes of IBM chemicals running beneath their homes, and finally the young Ghanaian who smashes obsolete monitors in a toxic waste dump to salvage metal for school tuition. Sadly, in our hyper-consumerist society, Americans discard over 100 million computer monitors and TVs a year, with the majority dumped in developing countries. Terra Blight navigates surreal landscapes with a sensitive cinema vérité lens that conveys the unique point-of-view of each character. By the film's end, viewers will never be able to look at their computer, TV, or monitor the same way again.
---
Switch (Harry Lynch, USA, 2012, 98 min)
Switch takes the viewer on a tour of the vast landscape of energy generation. You follow Scott Tinker, a geologist by training, as he studies energy sources in an effort to understand the fundamental transition that must take place in order to adequately provide for the world's future energy needs. By using his personal metric of all the energy he requires in one year, (20,000,000 watt-hours), Tinker brings immense concepts down to a human scale. He is given remarkable access to hydro facilities, deep-water oil drilling platforms, the largest coal mine in the United States; and even a hydro-fracking operation. In the process, you learn that 50% of U.S. power is from coal plants and that, perhaps counter-intuitively, the largest wind farm is located in Texas.
---
Travel with filmmaker Angela Sun to Midway Atoll, a remote island in the Pacific, as she seeks to uncover the mystery behind the island of garbage that everyone has heard of but no one truly understands. What she discovers is the Great Pacific Garbage Patch, a floating expanse littered with plastics, causing great harm not only to our beaches, oceans, and sea life, but also to ourselves. Midway sees 20 tons of plastic trash wash ashore each year, and as we watch her sift through ordinary household items among the debris—reusable coffee mugs, flip flops, lighters, even a computer monitor—we find ourselves uncomfortably complicit. This film tackles a seriously daunting problem with high energy and humor, archival footage, and animation as it tracks down the who, what, where, and why of this phenomenon.
---
Ever wonder about the chemicals that went into manufacturing your stuff? With little regulation, there are now over 80,000 chemicals used to manufacture furniture, cosmetics, clothing, toys, and cookware, and to grow your food. As a consequence of near-constant exposure, most people have approximately 200 synthetic, industrial compounds in their bodies. You might wonder, "Why does that matter and what can I do?" Unacceptable Levels sets out to answer those questions by taking the viewer on a guided tour of the key vectors in which we are exposed to this chemical soup. Drawing on an impressive array of experts, the film helps viewers understand what they can do to reduce their exposure to these chemicals in their daily lives and what needs to be done to effectively regulate them.
---
Trash Dance (Andrew Garrison, USA, 2012, 65 min)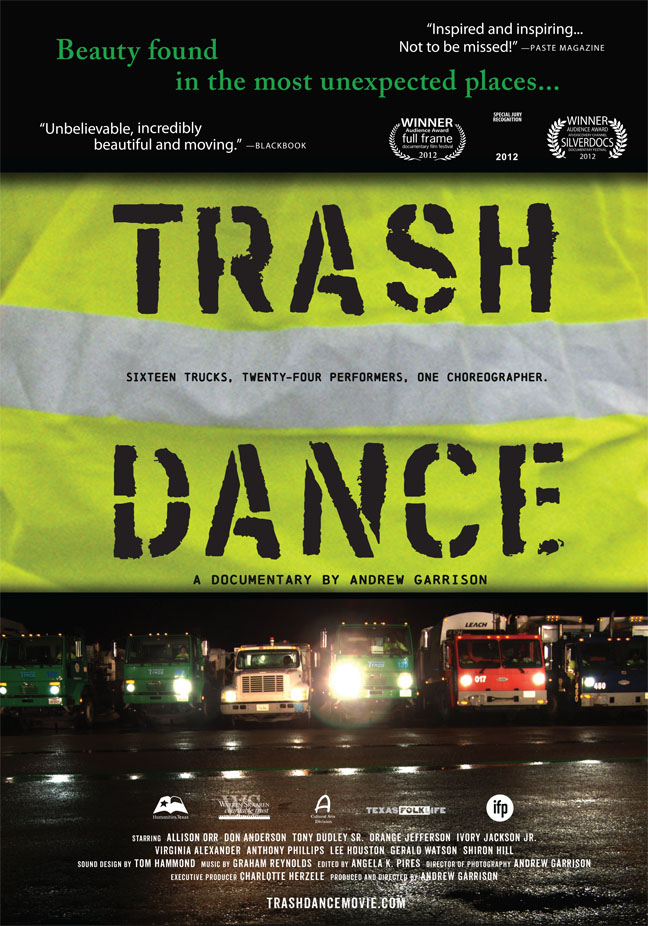 Ever wonder what it's like to collect garbage for a living" And what kind of people choose to do this job? This is your chance to get a peek into a world that is opaque to most of us. Choreographer Allison Orr finds inspiration, beauty, and grace in some odd places, including in the operation of garbage trucks, in cranes, and in the men and women who collect trash in the City of Austin, Texas. Determined to bring this grace into public view, she decides to stage a performance starring trash collectors and their equipment.
Met with initial skepticism, Orr ultimately convinces the workers to collaborate in a dance performance. Beyond the months of rehearsal, we observe a very touching story, one that puts a human face on these trash collectors who often get overlooked in society. What results is the performance of their lives—an event unlike any you've ever seen before, with thousands of spectators who show up on an abandoned airport runway. An Audience Winner at both the Full Frame and Silverdocs Festivals, this film leaves no doubt that garbage trucks, cranes, and trash bins, and the people who operate them, truly can dance.
---
Like the term "all natural," has "organic" simply become another Big Food marketing buzzword? In this award-winning documentary, Kip Pastor investigates what "certified organic" means today through interviews with organic farmers, critics, policymakers, scientists, and nutrition experts, accompanied by infographics on land and pesticide use and corporations' lobbying budgets. He follows the evolution from a well-intentioned movement to a corporate label and how that has impacted the original philosophy and goals of the "organic" revolution.
---
Watershed (Mark Decena, USA, 2012, 57 min)
The Colorado River defines the landscape of the American West. The water it provides brings livelihood to millions of people along its course. Yet with all the demands placed on it by agriculture, cities, and industry, it no longer reaches its historic terminus at the Gulf of California. Watershed brings audiences beautiful images of the river's dramatic geography from roaring headwaters to trickling flow as it reaches the Mexican border. Along the way, narrator Robert Redford introduces viewers to people who live, work, and enjoy the Colorado River and are taking action to do things differently They include a Los Angeles bicycle activist, a Navajo Nation councilwoman, a Colorado fly-fishing guide, and a restoration ecologist in Mexico, who all have at least one thing in common—a commitment to practicing a new water ethic.
---
Every year, millions of people in the San Francisco Bay Area ramble across the landscapes protected by the Point Reyes National Seashores and the Golden Gate National Recreation Area. Most have no notion how such prime slices of real estate were protected in the face of ferocious pressures to develop. Rebels with a Cause celebrates the people and passion that saved these coastal wonders. It's an inspiration to activists everywhere seeking to stem the rising tide of sprawl consuming our wilderness and farmland.
---
Selected Shorts
Hot & Bothered (Giannina La Salvia, Great Britain 2011, 4 min)
A cheeky look into how we may be forced to alter our love lives in response to the pressures of climate change.
How To Compost (Christopher Paetku and Trevor Gill, Canada, 2013, 4 min)
Finding it hard to communicate to friends, colleagues, neighbors, or family about the virtues of composting? Show them this entertaining short film and they'll be converts before you know it.
Food Fight (Ben Zolno, USA, 2013, 4 min)
A simple trip to the corner store to buy some food exposes an inner city youth to the battle under way to addict America's youth—particularly those living in urban food deserts—to fast food. Using rap music and graphic imagery, the film invites youth to make a choice between the empty calories offered by fast food and the wholesome alternatives that are available.