New Dream is very excited to announce the launch of our new platform—SoKind Registry—to help change the way we celebrate the major occasions in our lives.
U.S. consumer culture has created an expectation in this country that celebrations must be extravagant affairs in order to be special, thereby distorting some of the most important milestones of our lives.
Celebrations that should be joyful and meaningful are now often occasions that generate stress, waste, and debt. And Americans are getting fed up. There has been a recent spate of news articles describing the backlash against this growing phenomenon of excess, in outlets ranging from the National Review to the New York Times.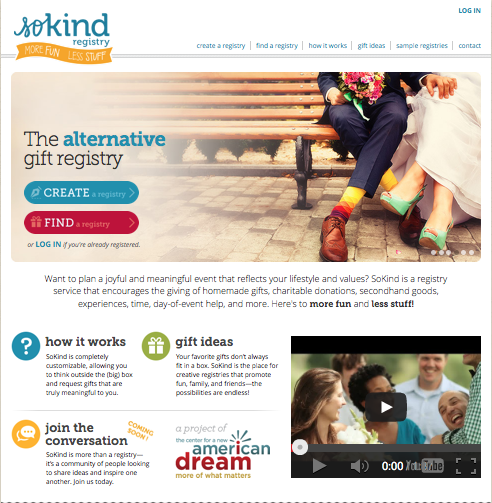 But now, there is an alternative: SoKind.
It's been a year of intense planning, fundraising, and collaboration for our small team, and we are so happy to share this new site with our very supportive and vocal audience. We heard you, and we appreciate all the requests we received (many times a week!) for us to revive New Dream's "alternative gift registry." We've done that—and more!
We built SoKind as a platform where people can express their values, create more meaningful events, and experience less stress and more joy as they celebrate. SoKind is a registry service that encourages the giving of homemade gifts; local, artisan, and secondhand goods; gifts of time and experiences; skill sharing; day-of-event help; and more.
SoKind is more than just a registry. Through discussion threads, social media, and blogs, we hope to create an online community of people sharing ideas with and inspiring one another as they celebrate more of what matters.
We hope you enjoy SoKind Registry. Please sign up, watch our video, and help us spread the word about SoKind!
—Wendy Philleo and the New Dream team