In February 2013, John Shea and Piper Watson, the founders of Baltimore's new Station North Tool Library sent New Dream a note of appreciation for hosting our 2012 webinar on "How to Start a Tool Library in Your Community," which they credited with helping their own project come to life. We invited them to share their story.

---
In two months, the Station North Tool Library will open its doors to the Baltimore public, joining the ranks of a growing network of tool lending libraries across the country.
It's hard to imagine that exactly one year ago, the idea to bring tool lending to a larger audience here in Charm City was just that—a mere idea. Since then, the amount of support both near and far has been overwhelmingly positive in helping us bring this collaborative consumption model to fruition in a city that could really benefit from this kind of thinking.
Revitalizing a Unique Urban Neighborhood
Like many aging industrial cities, Baltimore is a place where nearly 30,000 vacant properties blight an otherwise colorful, quirky, and sometimes downright magical place to live (our own neighborhood being one of these outwardly unappealing areas). So it was only a matter of time before revitalization efforts began to see the potential of this place and spread the word.
In just two short years of living in the working-class neighborhood of Station North, we've seen a block of nine row homes bought at auction, restored, and rented out to a demographically diverse range of folks. We've seen six new row homes go up right next door, a public fashion design and architecture high school be developed out of an old suit factory, and a two-month mural project featuring 20+ street artists from all over the world apply conversation-provoking swaths of color and character throughout our streets. And that's just to name a few.
These five square blocks have been the set for several episodes of HBO's "The Wire" as well as the recent Netflix-produced series "House of Cards." Our neighborhood is filled with characters like Mr. Tony—the man who flies his pigeons every day and has done so for nearly 40 years—and Stewart and Jim, who are raising their six-year-old son in a defunct window blind factory that they cooperatively own, operate, and live in with other artists while maintaining an amazing gallery/event venue and affordable studio space for area artists. Then there's Mr. Dale up the alley, our community association president, who began converting vacant lots behind his house into a massive community garden, and Uncle Joe (seriously) who always calls "Hey Piper and John!" to us from the stoop as we cross his street en route to the dog park.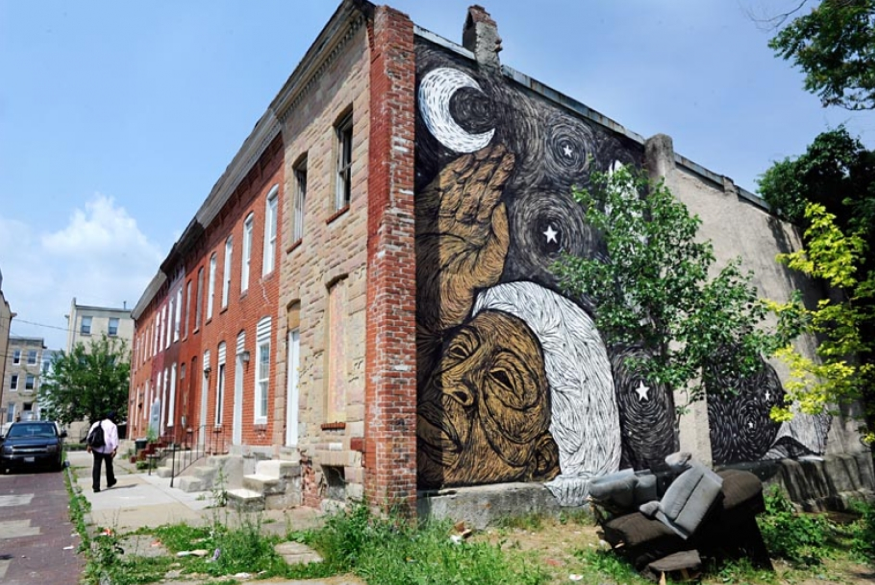 Well, the cat will be out of the bag soon enough, with the City offering upward of $45,000 in tax credits, grants, and forgivable loans to get people into and renovating these homes. When that starts to happen, we will see two distinct populations: new homeowners who want or need to repair and maintain their homes, and legacy residents who may want to do this but often can't afford the tools or services to do so. Either way, we saw a real need here: affordable access to tools, skills, and workspace to improve one's surroundings. With that comes a sense of ownership and empowerment that, quite frankly, is nothing short of amazing.
Yet with all of the life and vivacity that exists behind these seemingly tattered facades, half of the neighborhood is still vacant, and it truly is a wonder why. Why have people not caught on to the inner beauty of this neighborhood and its amazing proximity to the train station and Arts and Entertainment District? Not only that, but why do some of the people who already live here let their homes fall into varying degrees of disrepair?
Learning from Experience: Finding a Model That Works
In 2012, we set out on a cross-country motorcycle trip to visit as many tool libraries as we could to determine the right mix of models that would work for our small pocket of Baltimore. An intense amount of Googling yielded a good starting point for our research. The West Seattle Tool Library website offered a basic "How To Start Tool Lending" plus sample documents, and had developed cataloging software called Local Tools—genius! When we visited the library, we were even more stunned to discover that they had created a Fixers Collective—a group of folks who are master tinkerers and mechanically minded, and who meet at the library and are willing and able to fix tools out of circulation.
Insight #1: Tools Will Break
The #1 insight we heard during our tool library trek? Tools will break. Period. Have an affordable way to maintain and fix them. The idea of the Fixers Collective seemed like a brilliant way to solve that problem while keeping a roster of folks inside and involved with the tool library.
Insight #2: Make it Fun and Un-intimidating
We gained our #2 insight at the North Portland Tool Lbrary in Oregon, where Arolia the Magnificent prevailed over a well-oiled, grassroots machine that was everything we expected it to be: tiny, well-stocked, fun to be in, and consistently packed with people making things happen. One woman came in to return a tool and announced that she had successfully replaced the sink in her bathroom and was now tackling the tile. Arolia, without missing a beat, rattled off the list of necessary items and where to find them in the library.
We watched in awe as Arolia simultaneously checked tools in and out, dished out good advice to patrons on their projects, and answered our questions. Her multi-tasking skills came as no surprise when we learned she was a single mother, a fierce soapbox derby racer, plays in a punk rock band, and was a certified truck driver. Only in Portland!
But the essential lesson we learned from that visit was that a tool library shouldn't just be a source of affordable tools, but an un-intimidating and fun source of learning.
Insight #3: Make It Affordable
Having fun is key in creating a community, and a community is key to fiscal survival for a tool library (such as North Portland's) where membership is FREE! Arolia pointed out that by being free, there are absolutely zero barriers for someone to become a member and utilize the library. Hmmm… it got us thinking. Eliminating cost as a barrier is pretty huge, and I'd venture to guess that cost is what keeps people from doing most things they feel they can't. Double Hmmmm……
But the North Portland Tool Library, being free, presented some challenges. Volunteers will only take you so far, and in the end, all the librarians we met on our journey agreed that someone has to run the show and needs a lot of time to do it—so this time should be compensated. In the case of two of the country's earliest tool libraries—Berkeley and Temescal in the San Francisco Bay Area—they were part of the public library system and thus the public library budget (cha ching!). Therefore, there were several somebodies running the show—fantastic!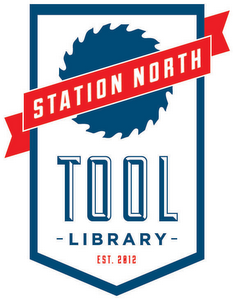 What that created was an environment that was a bit more even-keeled than Portland; longer business hours and more staff naturally smoothed things out. But the pace and fervor in Portland was exciting to witness: with people bustling in and out (sometimes twice in the same day) with projects and plans, there was a DIY authenticity that left you thinking, "yes, I really can Do It My Darn-self!" We never felt quite the same level of excitement and energy at the other libraries, and I can only guess that it may have been because Portland's free membership equated to a sort of accountability on the community's behalf—that if the people really wanted this resource, they would have to be the ones to make it work, support the fundraisers, utilize it, donate when they could, volunteer, etc.
This heavily influenced our decision to make the Station North library membership a "sliding-scale suggested donation." Don't have a penny to your name today? No worries! Perhaps you aren't sure just how often you'll even use the library, or know you'll be there every day. Either way, these are our suggestions for annual membership:
| | |
| --- | --- |
| Annual Income | Suggested Donation |
| $0–$25,000 | $1–$25 |
| $25,000–$50,000 | $35 |
| $50,000–$75,000 | $45 |
| $75,000 + | $50–$100 |
"But that's still hardly anything!!" Yes, we know, and therein lies sage bit of wisdom #3: People will give what they will give—and more often than not, generously, if they feel good walking through your doors.
"But how will the library be financially sustainable?" Aha! The question du jour! While visiting the Boulder, Colorado, tool library, we discovered that they were physically connected with a building-salvage yard that not only attracted handy DIYers, but also contractors! They had a separate membership fee for the latter that was more suited to the frequency, scale, and volume of tool lending that a general contractor might need—yet still more affordable than chain tool rental companies, thereby opening the doors for people to start new businesses in this area of expertise. Hmmm… the tool library could create jobs?
Insight #4: Provide Knowledge and Training Opportunities
A big barrier to visualizing personal possibilities, be it a home-project or a career path, is knowledge. We knew we wanted our tool library to offer both knowledge and training to patrons. By looking at workshop models both locally (like School 33) and afar (like Brooklyn's 3rd Ward), we were able to work classes into our business plan to project a more desirable level of self-sustainability for the library. Nothing has been set in stone, but we're considering something like $165 for a four-week workshop (one night a week) OR $300 for a seven-hour Saturday workshop plus free workspace for a month to complete your project. We're still nailing down the details but are already collecting a variety of skilled makers and teachers to help us develop potential offerings.
Insight #5: Have a Solid Business Plan
And speaking of business models: not-for-profit or for-profit? We found it absolutely imperative to get comfortable creating a comprehensive business plan. Not only were we able to flush out ideas, cast aside some, and develop others, but a solid plan made us really attractive to the plethora of funders we identified that were interested in social change, justice, the arts, and local development in our area. The stars aligned—we know not all tool libraries bear the burden and good fortune of coming about in an area ripe for a renaissance, but because we had a stellar business plan and a feel-good idea to market, we successfully pitched our start-up budget to a major foundation and were awarded the whole darn thing!
Now, since we are just 1.5 people (Piper has her own wedding photography business to run), we didn't want to go through the hoops of becoming a 501(c)3 just yet (or ever). So we had to find a fiscal sponsor. Fortunately, one just happened to be located around the corner in another artist-owned warehouse space.
Fusion Partnerships "incubates" 40+ organizations in the Baltimore area, acting as a fiscal sponsor and providing administrative help, insurance, accounting, legal advice, and overall support in exchange for a small share of an organization's funds acquired. When we walked into their office with a representative from the foundation to present our first donation check (our entire first-year operating budget), there were some coughs and gasps that we must have had a pretty convincing business plan—which was a giant pat on the back for us!
Because of the level of support we've received from individuals, organizations, and fellow tool librarians both near and far, we are placing our bets on a remarkably successful first year for our little Tool Library, and hope that it will be just the kick in the pants to spark other individuals to apply a collaborative consumption model to their own needs! We will keep you updated on our Facebook page, but feel free to reach out to us—we are happy to connect!
Here's a quick list of things we found to be true and helpful thus far in our planning of the tool library:
Fiscal sponsorship is amazing. Give yourself a break!
Utilize your network of people and potential tool library patrons to:

Secure an affordable space with very low overhead—as close to free as you can!
Get amazing branding! This really does seal your legitimacy and get people stoked to be a member.
Identify a volunteer coordinator to play the pied piper
Help you build out your space
Help you collect tools
Help repair tools
Barter with you to get the right people for the job at hand (branding was a big one for us to farm out).

It's never too early to spread the word about the library, and, in doing so, we've created relationships and opportunities we never thought imaginable! You just never know who you'll meet, so toot the tool library horn.
Create a platform: We started a free tool sharpening service—first on a bicycle, then on a tailgate, then in a rough tool library space, now in our nearly finished tool library space. It's every Saturday from 10 a.m. to 2 p.m. We've even taught classes, and it's a way for us to talk about the library, collect tools, and start to build community—even before our doors open!
Connect with all the other organizations in your area with a similar mission: urban farms, cooperatives, time banks, etc. Do your homework and help strengthen that network. In Baltimore's case, the organizations were strong but the network needed reinforcement.
If you have a tool drive, have a ton of volunteers on hand to test and make notes about repairs as you go, and be fully prepared to have a giant "don't need" pile. You can only have so many table saws (seriously, we got offered five in one week), and you can potentially sell, scrap, or pass on to someone else whatever's in the "don't need" pile.
Here are the nuts and bolts to our operation and a quick list of important information resources:
Fiscal Sponsor: Fusion Partnerships
Location: Area 405, 417 E. Oliver St. Baltimore, MD
Staff: 1 full-time guy (John; paid), plus 2 quarter-time staffers (paid) that possess skills to coordinate volunteers, repair tools, and/or have a good memory for DIY how-to's. It's a tall order—that's why they are paid.
Library Hours: TBD, but at least 30 hours a week
Tool Acquisition: (for now) donated tools, yard sales, Craigslist. We built in an acquisition budget for our first-year operating cost to purchase and repair/maintain used tools.
Software: Local Tools (free to tool libraries) for tool check in/out and membership management.
Website: A Wordpress site, where we link our Inventory tab to Local Tools
Social Media: Facebook/Twitter – USE IT and post often!! Make it fun, create a community!
How-To's: New Dream's "How to Start a Tool Library" webinar; Share Starter's How to Start a Lending Library; National Tool Library Group.