The day after Halloween, I put on my Santa hat. And that's showing restraint.... Needless to say, I love Christmas—the lights, the tree, the music, the picture books, the parties, even the movies.
My family doesn't watch TV or live near any big stores, so it's easy for me to ignore the commercialism and to tune in to what Christmas really means to me: connections.
Connections to the past as we decorate our tree with ornaments given to us by loved ones or picked up on vacation.
Connections to traditions like decorating our gingerbread house and leaving carrots for the reindeer.
Connections to each other as we cook a family meal and consider gifts that will make each other smile.
In some ways, Christmas feels like a celebration of what we've already got.
Over the years, I've been trying to shop less and create more. I'm not particularly crafty, but my kids have helped me make gifts like sea glass necklaces, salt dough ornaments, spice rubs, elderberry tinctures, and homemade "healthy" chocolate (as well as a few flops, like our huge batch of burnt granola). My team enjoys spotting Christmas-y newspapers to save for festive wrapping and using last year's X-mas cards for gift tags.
Gathering Stories
Last November, I pored over New Dream's ideas for non-material gifts (Christmas music on in the background, of course), hoping to embrace more meaning and less stuff during the holiday season. One idea jumped out at me: interview a relative.
I'd been wanting to call my great aunt for years to get the scoop on her childhood and to hear any stories she may have about my late Grandma Rosie (who gave me my Santa hat!). I may not be able to make stellar-looking crafts, but I can listen and take notes, so I thought this could be a way for me to make my own gifts for family.
I jotted down a few questions and arranged a telephone interview. When I finally reached my Aunt Kay, she was ready to talk, hearing aid in place.
Her New York accent reminded me of my Grandma Rosie's, and I felt a part of me soften. Asking Aunt Kay the first question was like turning on a faucet. She spoke freely and naturally, and I loved her complete honesty, like her saying, "My big sister was a prima donna." I enjoyed that insight into my late Great Aunt Margaret, whom I love deeply; it makes her seem more human and less sainted.
Aunt Kay made so many references to sisters: her sisters, her aunts, her nieces. It made me consider and appreciate my own sisters, mother, and aunts. I thought about our shared histories and traditions and what still binds us over the years.
Preserving Memories
I was struck by how much had changed since Aunt Kay was a child—she shared a bedroom with two other siblings, and a single bathroom with her family of eight, which was normal for the times. She had a Brooklyn landlord so strict that the family couldn't own bikes or baby strollers. They lived in a small apartment in the area of Brooklyn called Williamsburg, once home to the poor Irish and now a haven for hipsters wearing $400 Frye boots.
Aunt Kay remembers delighting in the pretty dress her mom made her to wear to church on Sundays, because she never got new clothes. She recalls her family's good fortune when the owner of the shop below their apartment gave them some potatoes for supper. Her simple childhood sounded happy and without regrets.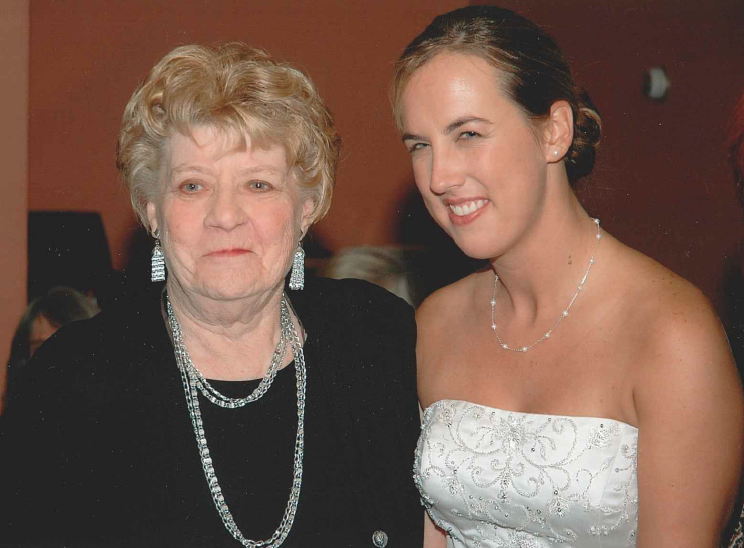 By comparison, I can't believe the privilege many of us (myself included) have felt compelled to offer our children: loads of sports equipment, separate bedrooms (and often a playroom), trips, televisions, and the best cold-weather gear around.

The way she spoke about her parents with such appreciation really struck me. It sounded like she really understood the challenges they faced.
I had expected to talk for maybe 30 minutes, but we were on the phone for close to an hour, and sadly I had to end the call abruptly to wake my younger son from his nap and to meet his brother at the bus stop. Still, I will always treasure this chance connection.
I edited the interview lightly for clarity but wanted to let Aunt Kay's voice shine through. I sent it to her to be sure she liked it. She had ended the interview with her sweet advice to "help everyone you can." It was a perfect way to conclude, and it made me really proud of her and our family.
The Greatest Reward
I took special care in wrapping the CDs of the interview—rolled with tissue paper, then tied with a cloth ribbon. I was so excited to give them to my sisters, aunts, and mom, and to hear their thoughts. I asked them to wait until Christmas Day to open them, as none of us spent the day together. It was fun to feel this connection across the miles on Christmas morning. One of my sisters was so inspired she immediately bought Jenna Bush's book on sisters.
I wish I could say I now regularly call or visit my 90-year-old aunt, but the truth is I haven't. It's been almost a decade since I've seen her, but a ferry ride and a five-hour drive feels like a lot when toting along two little ones. Seeing her would feel like touching the past, like some kind of experience from a Harry Potter book.
I made copies of the interview for my children and added it to their scrapbooks. It's their story, too.
When I think about Christmas, this time for deep connection, and the fast-paced culture we live in, it feels right to look to our ancestors and to the past to root and connect us. Sometimes, the past can feel so far away—like it never happened—but doing this interview brought it right into my living room.
Everyone has a story worth hearing. Taking the time to listen was a gift I gave to myself, not just my family. A relative doesn't have to be old to be interviewed. I can easily see this becoming a tradition. I am already considering whose story we may want to hear next year. I can't wait to turn on the Christmas music, put on my Santa hat, and pick up the phone.