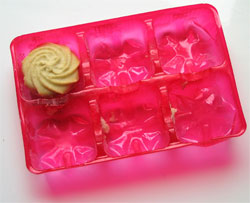 While most of us have a vague sense that plastic is part of almost every aspect of our lives, Beth Terry measures every ounce that passes through her household. She keeps a graph of her personal plastic waste output at the top of her blog, Fake Plastic Fish. Reading about the creative ways she finds to prevent plastic from flowing into her house and to her garbage can makes me realize that many aspects of modern life that seem to be inevitable actually are not. Like using scotch tape to wrap gifts .
She encourages us to take the No-Plastic Holiday challenge, which is simply:



Make holiday purchases that come with little plastic packaging, and


Choose alternatives to plastic items when possible.


Beth gives some pointers to help us get started unraveling the plastic web that seems to make overflowing garbage cans inevitable over the holidays. Among her tips is to
request zero plastic and Styrofoam packaging specifically
when ordering. That never occurred to me before, but it makes sense: why shouldn't our shopping transactions be on our terms? If you do receive an item with egregious amounts of plastic packing materials, she sometimes will "
mail it back to the vendor with a nice note asking them to rethink their packaging policies
."
It just so happened that I was writing this post with a bunch of microwave popcorn packages on my desk--a friend had passed these on to me from a charity event. I never buy the stuff, or if I did it would be one package at a time. Today for some reason having the whole mess of the plastic packages slipping around on my desk made a bigger plasicky impression than a single bag would have. All that packaging for one serving.  So I did a little googling to see if it's possible to pop popcorn in the microwave without actually buying the plastic wrapped bags. And you can.  See this post about brown bagging microwave popcorn as yet more proof that we can cut back some of those plastic tentacles that have reached so deeply into everyday life.