Beyond the Lion's Den: Mapping a More Meaningful Family Holiday
by Shara Drew | October 12, 2017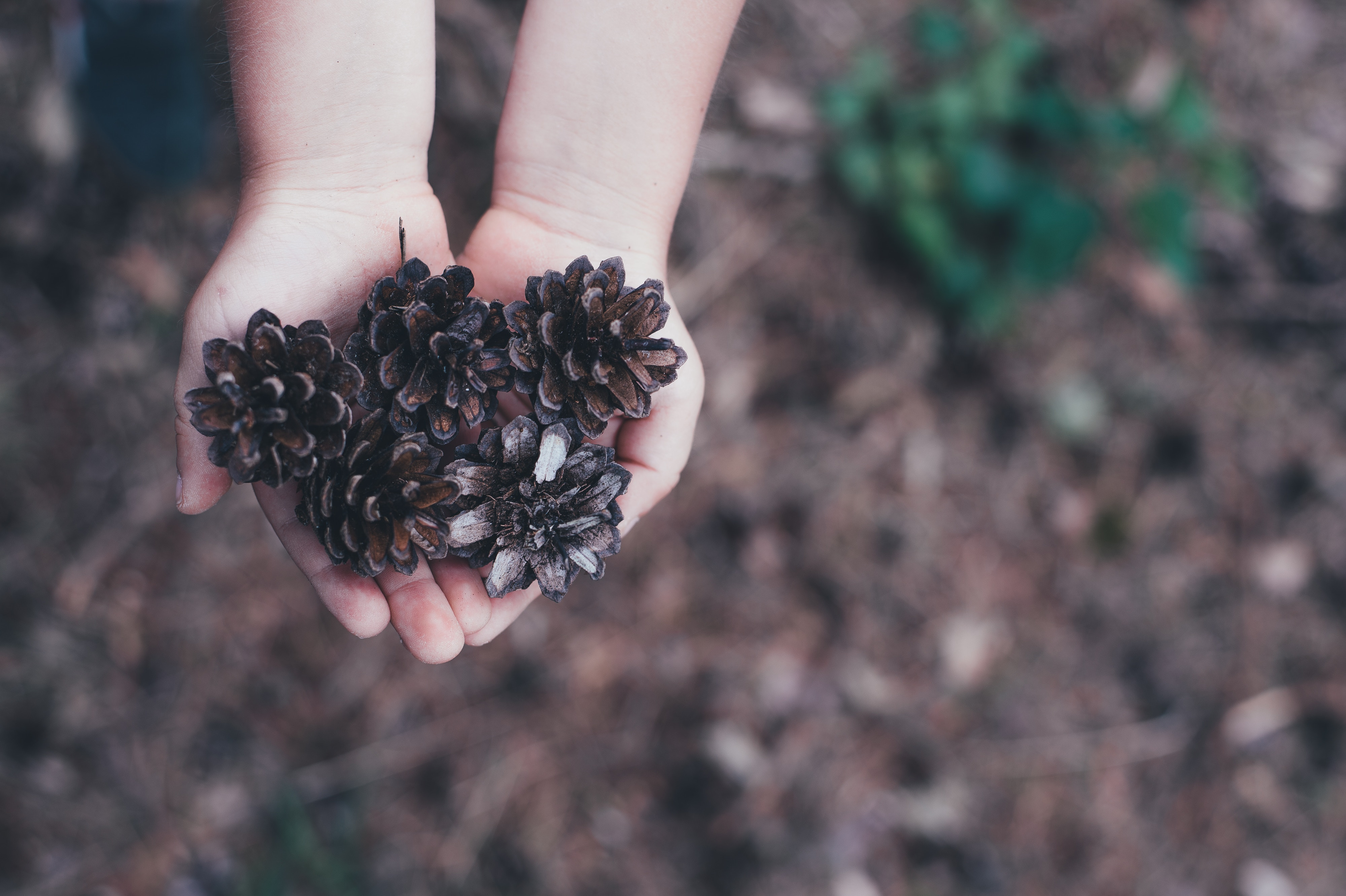 It's October, the month of goblins and ghouls. As a mother concerned about commercialism and over-consumption, I acknowledge that Halloween is not without its problems: the massive marketing push to buy cheaply made Halloween costumes (often highly sexualized for girls and based on violent media characters for boys) and all that candy wrapping—let alone the candy itself!

But despite these very real issues, I still love Halloween, and so do my husband and two young sons. It's a true community event, where all generations participate in a silly/spooky neighborhood celebration, knocking on doors and wandering the streets together in a magical nighttime ritual. Trusting each other. Getting to know each other. Playing dress up. Indulging in sweets. And having a good (if short) night's sleep at the end.
But then we wake up, and it's November. As much as I love Thanksgiving, too—cooking, enjoying the food, and spending time with family (sometimes with the added bonus of sitting around the fire pit, if the New England weather cooperates), November also signals the beginning of the end-of-year holiday frenzy. My family celebrates Christmas, and, as we all know, the marketing pressure to "buy your brains out" intensifies every year.
I'll say that, in general, our extended family has been very skilled at resisting this hyper-commercialization. On my side of the family, we celebrate the weekend after Christmas at my grandparents' house in New Hampshire. We have what we call a Yankee Swap (also known as a White Elephant Gift Exchange). Everyone brings one present, we draw numbers, and the fun begins.
On my husband's side, Christmas is focused on the gift of being together, rather than on material items. In recent years, we've opted for a few carefully selected presents for the children and no gifts for the adults, with the highlights of Christmas Day being long, lovely meals and a big family walk through our quieter-than-usual city.

". . . we've opted for a few carefully selected presents for the children and no gifts for the adults, with the highlights of Christmas Day being long, lovely meals and a big family walk through our quieter-than-usual city."
These family holiday traditions have been a joy to me, especially since I've been so deeply concerned about the advertising assault (especially around the holidays) and the plague of too much stuff. So you can imagine how shocked I am, now with a five-year-old and a three-year-old, that Christmas has spiraled out of control in our little microcosm of a family.
Giving In to the Pressure
It all started when my oldest son ("W") began preschool. At age three-and-a-half, W hadn't seen many shows or movies and barely any commercials at all. Until then, he hadn't asked us to buy any specific toys. But during the fall of his first year in his mixed-aged classroom, he came home asking for a "lion castle" for Christmas. An older boy he admired at school had described this toy to W, and the idea of it took hold of him.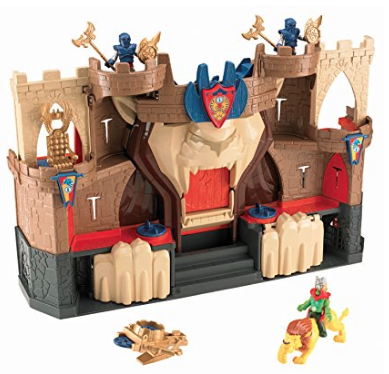 A lion castle?! A quick Google search, and there it was: the Castle Lion's Den. I admit, I was a little bit tickled to find it so easily (Fisher-Price would be, too, if they know how well their marketing machine was working).
So I had a dilemma: Do we get it for him for Christmas? It's big, plastic, and battery-operated, with miniature weapons and a built-in prison. It certainly doesn't meet the criteria of a toy we'd normally seek out. But it's the first toy he's asked for! He doesn't even really know what it is, but imagine how magical it will be if Santa knows just what it is and brings it for him!
For better or worse (mostly worse), Santa did bring it. W didn't seem very surprised to find it under the tree, but he did enjoy playing with the toy on Christmas morning. Our younger boy ("M") was just one at the time. I don't remember what was under the tree for him that year, but he was young enough that we didn't worry about feelings of unfairness, or one child getting more than the other.
The real trouble came last Christmas season, when W was four-and-a-half and M was two. By this point in his social life, W fully understood the concept of a list for Santa. Having sweet memories of making my own childhood lists, and nostalgic residue left by movies and other cultural lure, we sat down one day last November to make one.
I didn't have a plan. It was so unlike me, now that I think back on it. I can still feel the sweat beads collecting along my hairline as W dictated a list to me full of plastic, media character toys of a violent nature. "Whoa, slow down a bit. Um, you know, it's possible Santa might not have ALL these toys. Why don't we start with the few you'd like most, so Santa can prioritize? Oh...there's more? Wow, OK, looks like we've run out of paper, so time for the list to end now."
Crumbs. Now we were all in a real pickle. What was I to do next? Buy the things on the list, spend a nauseating amount of money supporting companies that unfairly target children with advertising, and feel pangs of regret for each toy I bought that would someday end up in a landfill? Or, ignore the list and risk a disappointed boy on Christmas morning?
I decided to buy a few of the least offensive items from the list—but it was still way too much. Even though two-year-old M didn't request as much, his pile from Santa nearly matched his brother's in my genuine but misguided attempt to avoid hurt feelings and make a happy Christmas for all.
Doing It Differently
Today, the boys play with those toys once in a while. And I have a giant lion castle taking up valuable real estate in my living room. It roars at me randomly now and then, reminding me to do things differently this Christmas. So that's what I'm going to do this year. Using New Dream's Simplify the Holidays resources, I'm on a quest to create a different kind of holiday tradition for our family. My husband is in. And once our kids experience all the holiday fun that can be had without all the stuff, I know they will be too.
"Using New Dream's Simplify the Holidays resources, I'm on a quest to create a different kind of holiday tradition for our family."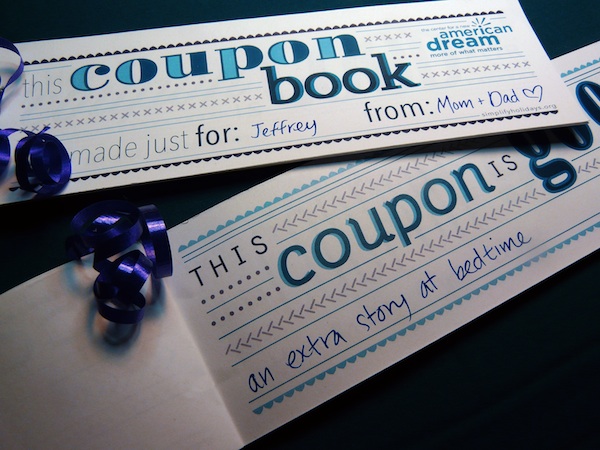 The boys will love the customizable coupon book, with coupons good for "staying up 15 minutes past bedtime" and "dessert BEFORE dinner." Inspired by the More Fun, Less Stuff Catalog to think about giving gifts of experience and connection instead of material gifts, we'll also give each boy a "Design-a-Day with Mom & Dad"—both W and M will get both of us parents to himself for a full afternoon (something we've rarely been able to pull off with two children), and will choose what it is we do together. We're also thinking about planning a fun, local family trip.
In addition to a *very* reined-in list for Santa, we'll be using SoKind registry to create a reverse registry, or "GiveList," where each member of our family will offer their time, skills, and generosity to show love and care to others. I'm sure W will be thrilled to offer his expert puppy-play skills for a lonely neighborhood dog, and M could propose to teach a lucky friend one of the fabulous new songs he's learned this year in preschool.
We have so much to offer and gain as individuals and as a family that has nothing to do with stuff—and that's what we'll treasure and celebrate this Christmas.
P.S. If you're not thinking about the end-of-year holidays yet, but would like some tips to make this Halloween both fun and earth-friendly, New Dream's got you covered.